About Stephanie Nakasian
Stephanie Nakasian is an exciting, well-seasoned vocalist and master of innovative jazz improvisation, completely authentic with a fresh and vibrant sound all her own. Bringing high energy to every performance, Stephanie enthralls listeners with her pure tones and a flawless delivery, engaging them on a personal level with a love for the music that is playful, electric and spontaneous in story and song.
Then & Now: Stephanie came to international attention in the mid-80s when she sang and toured with the vocal jazz master Jon Hendricks and Company. She continues to tour and record as a vocal leader to this day!
Recordings:  An active and prolific recording artist, Stephanie's debut CD "Comin'Alive" (V.S.O.P.) featuring legendary saxophonist Phil Woods received four stars from critic Leonard Feather. "French Cookin'" (V.S.O.P.) spotlights the beautiful combination of Stephanie's voice with virtuoso French hornist Bobby Routch. Her "Bitter Sweet" CD (JazzMania) is highly lauded along with "Escapade" as she takes the audience on a fantasy swing voyage and her "Lullaby in Rhythm" in tribute to Kenton singer June Christy featuring saxophonist Harry Allen. In 2006 two CDs were released: "Thrush Hour" (VSOP), a tribute to 20 great jazz singers including a 20 page booklet co-authored by Scott Yanow with pictures, bios and educational tips as to how to listen to each singer to hear the nuances of style and phrasing and "I Love You" (Spice of Life) was released in Japan to rave reviews including a full article in "Swing Journal" in which they called Stephanie "the perfect jazz singer." Additional recordings include "Billie Remembered," "Dedicated to Lee Wiley" and "If I Ruled the World," in addition to three karaoke - You Sing The Hits features: "Great Ladies of Jazz Vol.1," "Great Ladies of Jazz Vol. 2" and "You Sing Billie Holiday." In 2012 she released her highly acclaimed CD "Show Me the Way" with Capri Records.
Accolaides: Stephanie is listed in the Biographical Encyclopedia of Jazz as one of the world's leading jazz singers. Jon Hendricks chose Stephanie because of her hip, swinging rhythm. The Jim Cullum Jazz Band features her frequently on their internationally syndicated show Riverwalk portraying Lee Wiley, Peggy Lee, Helen Ward, Helen Humes, 20s singers and blues singers for her swing and authenticity. On a show with Dick Hyman she was invited to pay tribute to composers Hoagy Carmichael and Walter Donaldson. Often compared to jazz greats, it's Stephanie's clean and clear tones that have given rise to her polarity while her ability to perform the standards transports listeners to another place in time. The Richmond Times- Dispatch "compared her to Ella…and (she) deserves it." In Europe she was noted for her similarities to Sarah Vaughan an d in New York she was aligned to Margaret Whiting.  Click the graphic to listen to Stephanie's interview with Terry Gross on NPR Fresh Air.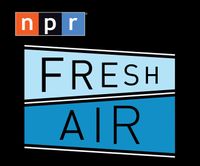 Tributes& Education: Stephanie's original concert revues and composer and singer tributes have been favorites with concert audiences, schools and universities. Her "Great Ladies" revue tracing the development of jazz singing has also been offered as an academic course at the College of William and Mary in Williamsburg, Virginia and at the University of Virginia, Charlottesville, where Stephanie is currently on faculty as a vocal instructor and coaches students on jazz phrasing, listening, improvisation and repertoire preparation for performance.  She has directed and coached numerous vocal jazz ensembles and is a regular workshop presenter at schools and conferences each year.
Author of "Breathing Room: Stories of Personal Transformation From Voice Lessons,' "You Already Know How to Sing" and the vocal jazz book "It's Not on the Page! How to Integrate Jazz and Jazz Rhythm into Choral and Solo Repertoire" Stephanie's methods have been presented in educational settings and at national music education conferences across the U.S., including MENC, IAJE and MTNA. She also adjudicated at the McKnight Fellowship Competition in Minneapolis in 2005.
Performances: Stephanie has appeared on TV and radio in the U.S., Europe, Japan and the Caribbean. National Public Radio featured her on a one-hour concert on "Jazz Set" hosted by Branford Marsalis. Her many festival appearances include the Northsea Jazz Festival (Holland), the Kool Jazz Festival (NYC), S.C. Jazz Festival, N.C. Jazz Festival, Main Street (Columbia, SC) Jazz Festival, the Big Gig (Richmond, VA), the Bethlehem Musikfest (PA), numerous appearances at the Delaware Water Gap Jazz Festival (PA) and a Public Television special featuring duets with trumpet legend Clark Terry. She was featured on tributes to June Christy with the Pete Rugolo Orchestra at the West Coast Jazz Festival in Newport Beach, CA, and at the Beverly Hills Hotel, and also with the Columbus Jazz Orchestra (OH) and Kansas City Jazz Orchestra, the Fargo Arts Group (ND), and at the NJ Jazz Festival. Since then, appearances include the Kennedy Center Jazz Club (DC), The Jazz Standard (NYC), Pensacola Jazz Festival, three cruises including James Moody's 80th Birthday Cruise, Great Waters Festival (NH), Gulf Coast Festival (Panama City, FL), a week's stint at Joe Segal's Jazz Showcase in Chicago, and the Telluride Jazz Celebration. She also headlined with her daughter Veronica Swift at the Women in Jazz Festival at Lincoln Center in NYC. Stephanie has performed at the San Joze Jazz Festival and can be enjoyed regularly in New York City at clubs such as the Blue Note, Jazz Standard and Kitano.  Concert appearances as a featured performer include performances with Urbie Green, Pat Metheny, Bobby McFerrin, Milt Hinton, Clark Terry, J.R. Monterose, Joe Temperly, Scott Hamilton, Harry Allen, Sheila Jordan, Bob Dorough, Valery Ponomarev and (with Jon Hendricks) Red Mitchell, Hank Jones, Philly Joe Jones, Roy Haynes, and Annie Ross to name a few.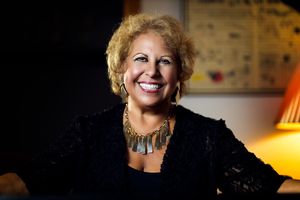 Snapshot
Headline performances - Kennedy Center, Lincoln Center, Northsea Jazz Festival, Jazz Party At Sea Cruise, NC Jazz Festival, to name a few
Touring jazz vocalist since the mid-80's, to include 2 years performing with the Jon Hendricks Group
Frequent Guest Performer and Speaker at Conferences and Seminars Worldwide on Various Jazz topics and vocal techniques.
Studied with Joseph Scott and Colin Romoff
Trained Classical Pianist and Violinist
Professional Radio DJ "Jazz with Stephanie Nakasian"
Highlights
2016 Featured Guest Charlotesville-Inside Out, with Terry Allard
2012  "The Renaissance Woman of Jazz." All About Jazz
2008 "Top 500 Jazz Singers of All Time" (Yanow) Backbeat Books
2001 Dizzy Gillespie Award for Distinguished Performance