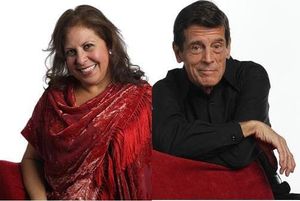 Stephanie's Musical Style Series
These uniquely designed concerts focus on a particular style of music or instrument while delving into the many facets of expression each song conveys.
Stephanie is well-known world-wide for her unique and lively Bebop style.  Having spent 38 years touring with and married to the late great Bebop pianist Hod O'Brien and two years touring with jazz vocal legend Jon Hendricks, she is an authentic Bebop singer. From scatting to vocalese, she does it all!
Audiences will delight in her funky/bluesy side, her Latin flare and ability to perform songs in different languages. From Spanish, French, Italian and Portuguese, entwining with Bossa to Rhumba, Salsa and Samba, her delivery is extraordinary.
Her "Guitar Madness" shows highlights 6-7 different types of guitars and feature masters guitarists such as Chris Whiteman and Randy Johnston, demonstrating different techniques and sounds as Stephanie performs her ever-expansive repertoire of Jazz, Swing, Blues, R&B, Pop and even Rock-n-Roll.  
Click each show's title for a brief description:
CLICK HERE to contact Stephanie about scheduling and designing a show for you!